Got a Georgia No Valid License ticket?  Fix it!
Before you pay your Georgia No Valid License ticket…
Call our Georgia lawyers at 404-310-9795 to discuss your options
Most  Georgia No Valid License tickets will cost you anywhere from $1200-$5000 over 3-5 years!
We can save you this money.
No points, No record, and No court appearance.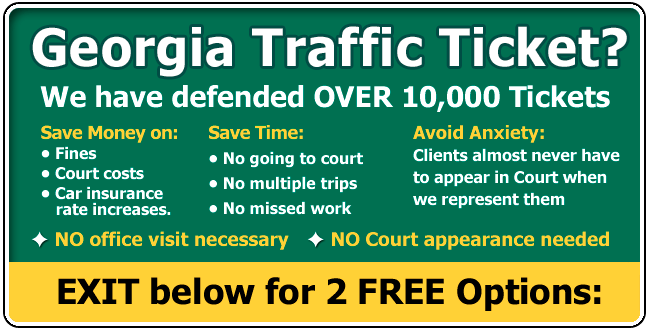 IT IS EASY TO START THE FREE CONSULTATION PROCESS:
1. To begin, please fill out the FREE CONSULTATION FORM or call 404-310-9795.
2. When we receive your information through our website form, Cindy Fraschilla, our traffic defense director, will call you, explain how we can help you, and also give you an immediate FREE legal fee quote for your consideration.
3. If you accept our Legal Representation Offer, by paying the legal fee and sending us a copy of your traffic ticket, then we do all the work representing you before the court, no matter how many appearances or how much work is involved. In other words, there are no hidden fees. Usually, you will not need to appear in court, though for some cases and courts this may be necessary.
4. When your ticket is successfully resolved, we will provide you with the final disposition, court paperwork, discuss in person any questions you may have, and give you any instructions to follow if there is a fine to pay the court to keep your ticket off your driving record, or other possible requirements.
We want it to be easy for you to retain the legal experience of the Georgia law firm of Hendrick and Henry.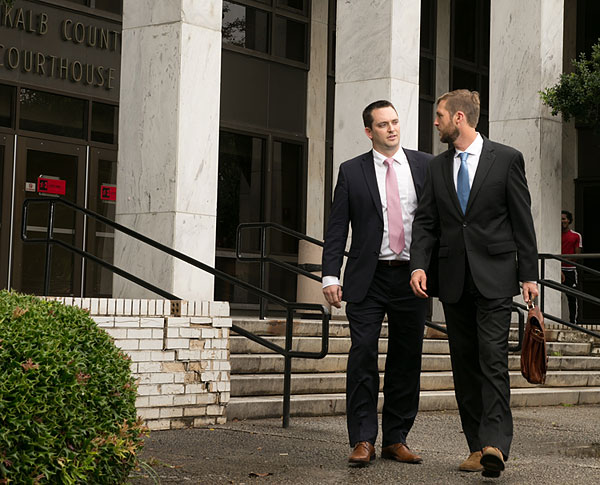 Joseph Henry (L) leads our traffic law defense division.  Troy Hendrick (R) leads our personal injury division.
Hendrick & Henry Law are Georgia traffic and speeding ticket lawyers with proven success in courts across the state including Atlanta.
We have developed a highly specialized division of our firm dealing only with Georgia traffic and speeding issues. That means that our firms' attorneys are actually practicing in the local Georgia courts where your ticket will be prosecuted — day to day, month to month, and year to year. For over thirteen years, the traffic division attorneys at Hendrick & Henry have cultivated these relationships and will put them to work for you.
Your driving record is very valuable, even though most people don't know it.
The premium you pay for your insurance is based on several variables. By far the most significant variable is your driving record. Any conviction, even for minor infractions, will show up on your driving record.
Then your insurance company will raise your rates. They will stay elevated for 3-5 (sometimes 7!) years. Over this time, you will literally pay thousands in additional premiums. To verify this, we encourage you to call your insurance agent to ask them what effect a conviction will have on your premium. We can save you thousands by avoiding this.
The easiest way your insurance company discovers a conviction is through your driving record. We are very successful in avoiding ANY record. We can prevent ANY points from being assessed. Recently, we've seen a push by some data-mining companies to find infractions even if they are not on your driving record (other ticket defense firms won't tell you this). Then they sell this information to your insurance company so they can raise your rates. At Hendrick and Henry, we do everything in our power to make this difficult for your insurance company.

We do all the work and appear on your behalf. Whenever possible. It's that simple.
• FREE Initial consultation
• No Office Visit Necessary
• Usually No Court Visit
Save Money:
On fines, court costs, and car insurance premium increases.
Save Time:
No going to court, no multiple trips, and no missed work.
Avoid Anxiety:
When we represent you in traffic court, you may not need to face the judge, district attorney, or police officer to argue your ticket.
Avoid Aggravation:
Usually no courthouse hassles.
For your FREE Georgia no valid license ticket case review please follow this link
2010 Georgia Code TITLE 40 – MOTOR VEHICLES AND TRAFFIC CHAPTER 5 – DRIVERS' LICENSES ARTICLE 2 – ISSUANCE, EXPIRATION, AND RENEWAL OF LICENSES § 40-5-20 – License required; surrender of prior licenses; local licenses prohibited
O.C.G.A. 40-5-20 (2010)
40-5-20. License required; surrender of prior licenses; local licenses prohibited
(a) No person, except those expressly exempted in this chapter, shall drive any motor vehicle upon a highway in this state unless such person has a valid driver's license under this chapter for the type or class of vehicle being driven. Any person who is a resident of this state for 30 days shall obtain a Georgia driver's license before operating a motor vehicle in this state. Any violation of this subsection shall be punished as provided in Code Section 40-5-121, except the violation of driving with an expired license, or a violation of Code Section 40-5-29 or if such person produces in court a valid driver's license issued by this state to such person, he or she shall not be guilty of such offenses. Any court having jurisdiction over traffic offenses in this state shall report to the department the name and other identifying information of any individual convicted of driving without a license.
(b) No person, except those expressly exempted in this chapter, shall steer or, while within the passenger compartment of such vehicle, exercise any degree of physical control of a vehicle being towed by a motor vehicle upon a highway in this state unless such person has a valid driver's license under this chapter for the type or class of vehicle being towed.
(c) (1) Except as provided in paragraph (2) of this subsection and in Code Section 40-5-32, no person shall receive a driver's license unless and until such person surrenders to the department all valid licenses in such person's possession issued to him or her by this or any other jurisdiction. All surrendered licenses issued by another jurisdiction shall be destroyed. The license information shall be forwarded to the previous jurisdiction. No person shall be permitted to have more than one valid driver's license at any time.
(2) Any noncitizen who is eligible for issuance of a driver's license pursuant to the requirements of this chapter may be issued a driver's license without surrendering any driver's license previously issued to him or her by any foreign jurisdiction. This exemption shall not apply to a person who is applying for a commercial driver's license or who is required to terminate any previously issued driver's license pursuant to federal law. The department shall make a notation on the driving record of any person who retains a foreign driver's license, and this information shall be made available to law enforcement officers and agencies on such person's driving record through the Georgia Crime Information Center.
(d) Any person licensed as a driver under this chapter may exercise the privilege thereby granted upon all streets and highways in this state and shall not be required to obtain any other license to exercise such privilege by any county, municipality, or local board or body having authority to adopt local police regulations.
Disclaimer: These codes may not be the most recent version. Georgia may have more current or accurate information. We make no warranties or guarantees about the accuracy, completeness, or adequacy of the information contained on this site or the information linked to on the state site. Please check official sources.